Financial Tools
We create tools for our customers that provide detailed information and figures that come directly from their accounts, so they can make better-informed decisions about their credit and finances.
Spend Analyzer
Get a crystal clear view of how and where you're spending with a graphic representation of your Discover card purchases.
Try Demo

Paydown Planner
We'll help you create a systematic plan for reducing or paying off your Discover card balance.
Take a Tour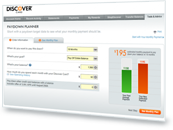 Banking Calculators
See all the ways you can make the most of your money and grow your savings with Discover.
Try Them Out