CD Laddering: Make the Climb to Financial Success
All it takes is 3 CDs and this simple strategy, and you're on your way to saving more.
Make your savings work harder for you: open multiple CDs with different maturity dates. It's called "CD laddering" and it's a great way to take advantage of the best CD interest rates for longer terms and ensure you have liquidity and flexibility when you need it, since one or more CDs will always be approaching maturity. If you're looking for competitive CD rates with guaranteed returns, look no further than Discover Bank. We offer a full range of high-yield CDs with terms from 3 months to 10 years. You can open a Discover CD with as little as $2,500 and deposits are FDIC-insured up to the maximum allowed by law.
Building a CD Ladder
The following illustration shows how a laddered CD portfolio works. Here, an investor initially purchases three CDs with 1-, 2-, and 3-year maturities. At the end of each year, the maturing CD is reinvested in a new 3-year CD, permitting the investor to invest in higher-rate 3-year CDs rather than 1-year CDs, yet still affording the flexibility of annual maturities.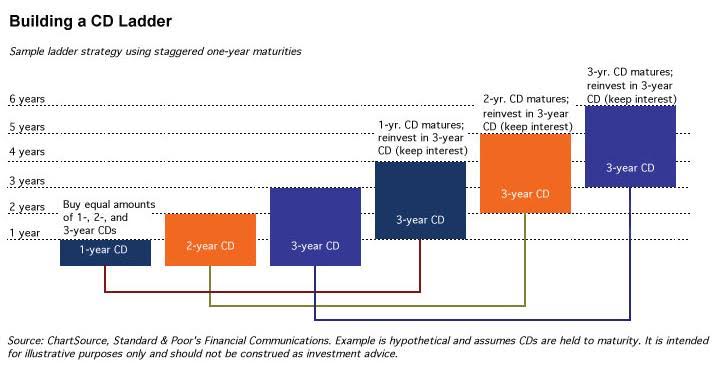 Matching Maturities to Needs
CDs typically come with early withdrawal penalties, which can wipe out any returns if you need to take the money out before the term is up. So, make sure the maturities you select work with your cash needs. It may make sense to hold some cash in a high-yield Money Market Account. You'll earn competitive yields and enjoy access to your money market funds in a pinch so that you don't need access to your CDs.
Discover
In addition to offering a full range of CDs to help you with CD Laddering, Discover also offers Money Market Accounts where you can enjoy competitive returns with easy access to your cash1, an Online Savings Account to help you with your short-term savings goals, and IRA CDs to help you grow your retirement savings. Open an account online in minutes or call our 24-hour U.S.-based Customer Service at 800-347-7000.
The article and information provided herein are for informational purposes only and are not intended as a substitute for professional advice.