What to Do When You Can't Pay Your Mortgage

Anyone can experience hard times, even those who have been working steadily and faithfully saving their money. A lost job, serious illness or other major catastrophe can cause devastating financial difficulty. If this hasn't yet happened to you, you've been fortunate, but it's always valuable to plan ahead to protect yourself. If you are currently experiencing hardship, it's time to make some quick decisions.
Act as Soon as You Foresee Difficulty
Instead of waiting until you don't have the money to make your mortgage payment, begin working on the issue as soon as you realize financial problems are looming. Talk to your loan servicer about your situation. If you'll be relying on your savings to pay the bills, look for ways to cut expenses so your available cash will last longer.
Your lender can offer options for staying current on your mortgage and avoiding foreclosure. Here are two ways your lender may be able to help you stay in your home, depending on your situation.
1. Short-term difficulty
If you've been off work for just a few months, your lender may offer you a forbearance agreement. This is essentially an agreement between you and the lender that says your home won't be foreclosed if you follow a plan to get or stay current. For example, if you are behind on your payments by $4,000 and you will be going back to work in the next couple of months, your lender may have you agree to pay an extra $500 per month until you are caught up as part of the forbearance agreement.
2. Long-term financial problems
If you are currently out of work for a long period or had to take a cut in salary or lower-paying job, you may not be able to afford your current mortgage payments. In this case, your lender may offer a modification, which is an alteration to the original terms of the loan. A modification may change the interest rate or extend the length of the loan, resulting in a reduction in the amount of your monthly payments.
If your loan is backed by Fannie Mae or Freddie Mac, you may qualify for the Home Affordable Refinance Program (HARP) or Home Affordable Modification Program (HAMP) government offerings. These are designed to refinance or modify the loan, enabling you to stay in your home.
Visit the sites linked above to find out if your loan is eligible for these programs. In addition, ask your lender about any private modification options.
When Is It Too Late?
Don't wait until you're receiving phone calls, or even a notice of foreclosure, before taking action. By then, formal processes may have started and be moving like a snowball gaining speed. 
This situation has a future impact as well. Fannie Mae and Freddie Mac generally won't lend if you have a recent default on your record. For near-term and long-term reasons, try to resolve loan payment issues before you are late on payments.
In general, lenders are willing to work with homeowners to resolve financial issues. They don't want to go through the foreclosure process any more than you do. All lenders have their own rules about how they assist you. The sooner you approach them about the problems you are facing, the more likely they can come up with a resolution that keeps you in your home. Communication is the key to a successful relationship with your lender, especially when you're struggling to pay your mortgage.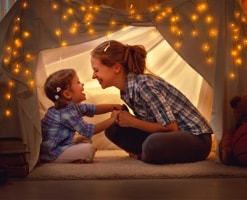 The home equity you've earned
can be used in a multitude of
ways. 
Main

Start your application online

or give us a call.
Main

Start your application online or give us a call.