What to Do If Your Home Has Negative Equity

Negative equity means your home's current fair market value is less than your outstanding loan balance (i.e you owe more on your home than it's worth). Sometimes lenders use the term to mean the homeowner has less than 20% equity, the magic number generally required to finance a new home.
There are two situations where you as a homeowner should be concerned about having negative equity. Read on to learn more about common concerns and tips for resolving them.
Refinancing
If you are having difficulty making the mortgage payments on your home, you may be concerned about losing your home to foreclosure. Refinancing to a lower monthly payment can provide some relief, but most lenders are unlikely to refinance a home with negative equity.
Government programs have enabled some homeowners to refinance homes with negative equity. The Home Affordable Refinance Program (HARP) may allow homeowners with a loan to refinance to a more affordable payment. An application is required and the loan must be underwritten by a lending team.  If the borrower refinances with HARP in a fixed rate mortgage, there is no maximum loan-to-value ratio required.  If the borrower refinances with HARP in an adjustable rate refinance mortgage, the maximum LTV is 105%.
Not everyone qualifies for HARP, but many eligible people have not yet applied. To find out if you qualify, contact a mortgage lender. You can also visit Fannie Mae or Freddie Mac to use look-up tools to determine if your mortgage meets the qualifications. Checking this option is free and it may pay off; some users are reporting rate reductions of 1.5% and monthly savings of several hundred dollars. Most importantly, they are able to stay in their homes.
If you do not qualify for HARP, contact your current servicer to discuss other options that may be available to you.
Buying a New Home and Renting the Old
Many different circumstances prompt homeowners to want to buy new homes. They may be adding to family or downsizing to a smaller space. Whatever the reason for buying, it may be difficult to sell the current property if it is in a negative equity position.
If this is your situation, it does not necessarily mean you are stuck in your current home; you just may have to be more creative about solving the problem. One option is to become a landlord and rent out your first home while living in your new home. The renter can pay a portion, or all, of the original mortgage while you concentrate on paying for your new home. This may even end up being a profitable long-term investment once the mortgage is paid off.  It may be helpful to consult with a financial planner for expert advice.
Before starting the process, realize that most lenders will require more than the standard cash reserves, especially if you do not have a history as a landlord. For instance, instead of three months of cash reserves, you may need the equivalent of six or even twelve months of mortgage payments for both properties.
Make sure to budget for all of the extras that come with owning a home. You may need to replace towel racks, lighting fixtures or faucets to appeal to a tenant. Purchasing a home warranty may be an option to alleviate some of the responsibilities of maintaining two homes.
Consider who your  renter will be. Conduct a background check on the tenant, call references and  verify employment and rental history. Too often, landlords request this information but never follow up. Also, keep a list of contractors for electrical, heating and cooling and other repairs that may arise.
If you decide to go this route, start planning early. Work with a reputable lender, provide all related information and get pre-approved. Let the vendor know your plans and communicate any potential issues.
Negative equity can be managed if you approach it rationally rather than emotionally. Just be persistent and patient, communicate openly and frequently with your lender, and don't make any rash decisions. Remember that you always need a place to live; the decisions you make now will follow you for many years.
Negative equity  does not have to mean financial distress. With the right amount of knowledge and persistence, and an experienced lender in your corner, you may be able to turn a potentially bad situation into an advantageous one.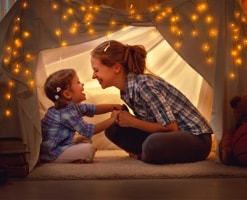 The home equity you've earned
can be used in a multitude of
ways. 
Main

Start your application online

or give us a call.
Main

Start your application online or give us a call.