New Discover Survey Shows Homeowners Ready to Renovate—So What's Holding Them Back?

Home prices are up and tappable U.S. home equity hovers at its peak—prime market conditions for looking at your home as a financial tool. So it's not surprising that more than half of all homeowners plan to make upgrades to their homes this year, according to a new survey by Discover Home Loans. However, three out of four soon-to-be renovators appear to underestimate the costs involved.
Common misconceptions have to do with the price tag of some of the most popular home renovations. Sixty-four percent of homeowners surveyed believe their project will cost $15,000 or less. However many improvements cost substantially more, according to Remodeling.net. Price points for a bathroom upgrade are between $19,000 and $61,000. And, for a kitchen remodel, the typical range is $63,000 to $125,000.

Be financially prepared and determine which payment method makes the most sense
"Home improvement projects can quickly add up," says PK Parekh, Senior Vice President of Discover Home Loans. "Which is why people should be financially prepared and determine which payment method makes the most sense within their own financial situation."
So, what can homeowners do if they are ready to update but not prepared for the financial undertaking?
Getting clear on costs and ways to pay
The good news is, according to the survey, most homeowners view their home as a financial asset—47 percent say it's the top reason they purchased it. Even better, seven in 10 say their home is worth more now than when they bought it. In fact, out of homeowners who have an estimate of their home's worth, almost half believe they have over $100,000 in available equity. However, just 38 percent say they're planning on leveraging that equity. So, why is a lot of this wealth remaining untapped?
In addition to a lack of clarity on costs, another hang-up for most homeowners in 'planning versus doing' is how to pay for home improvement projects. Many cite a lack of cash. According to the survey, 34 percent of respondents prefer to use cash for their projects. That can become a barrier once they realize their home improvement estimates are off. Another 23 percent of homeowners say they would fund their upgrade with a credit card. However, this choice can carry an interest rate as high as 19 percent or more.
Benefitting from your home's equity
With homeowners staying put longer and the market continuing to strengthen, tapping into a home's value can be a low-cost, simple financing tool to make renovations a reality. In fact, 40 percent of those who are planning a home renovation this year hope it will also increase the value of their home. "There are a lot of benefits of using a home equity loan to complete a home improvement project," says Parekh. "Discover offers a fixed rate loan with no application or origination fees. Also, you can use part of your loan to consolidate other existing debt, possibly reducing your interest rates and giving you just one monthly payment."
Other advantages of a home equity loan may include:
A lower interest rate.

 

Unlike credit card debt or a personal loan, a home equity mortgage is secured debt, which means rates are often substantially lower. A lower finance charge has the potential to greatly reduce the overall cost of a project, over time.

Potential tax savings.

 

Unlike unsecured personal or credit card debt, home equity loan interest may be deducted in certain instances, including when funds are used to complete large home improvements that add value, prolong its useful life, or adapt the home to a new use. Talk with your tax professional to see if you qualify.



Funding this year's home improvement project may be closer than you think. In fact, you may be living in the best solution. First, get a firm handle on what you'll need to spend on your renovations. Then, look into the wealth that may be stored in your home to see if a home equity loan is right for you.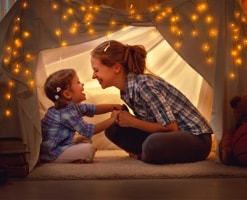 The home equity you've earned
can be used in a multitude of
ways. 
Main

Start your application online

or give us a call.
Main

Start your application online or give us a call.