Using Home Equity for a Car Purchase

Your household will see many cars come and go, and your home could be added funds to put you in your dream car.
If you're wondering how to pay off a car loan, or secure funds to buy a car, look no further than the house where you and your family live. Your home is a key asset to help you finance large purchases and secure favorable interest rates.Home equity loans offer fixed, low interest rates and are largely based on your home's value and equity.
Home equity loans are especially useful when you have a low credit score.. Since the loan is secured by your home, you may be able to qualify with a lower FICO score.
To make the right decision, you'll need to compare your options and look for the pros and cons relative to your financial situation. Here are some of the key factors to consider with Discover Home Loans:
Fixed interest rates starting at 3.99%*

Terms of 10, 15, 20 or 30 years

Home equity loans from $35,000 - $200,000

No application, origination, or appraisal fees, and no cash is required at closing
*Your APR will be between 3.99% and 7.99% for a loan in first lien position and 3.99% and 11.99% for a loan in second lien position. The APR is based on loan amount and a review of creditworthiness, including income and property information, at the time of application. The lowest APR is available to consumers with the best credit and other factors, including the loan term. Loan amounts available from $35,000 to $200,000.
The typical auto loan offers:
A set interest rate - rates depend on the lender

Shorter repayment schedule than most home equity loans
Different characteristics of each loan will be important to consider based on your specific situation. However, it is always worth noting if the auto loan you qualify for has a prepayment penalty. Depending on the size of your initial loan, these penalties can be significant.
Pay Off High-Interest Auto Loans
The comparison between an auto loan and home equity loan should be made between the interest rate, fees, and terms.
If you have an older auto loan, you may have a loan with a higher interest rate than what today's home equity loans offer.
The terms of a home equity loan are often a little easier on your budget, giving you a much longer term to repay the loan if you're looking for a reduction in monthly costs. While this may raise the amount you pay over time, it can prevent you from dipping into savings or running up credit cards when you find it difficult to make your car payment.
If you don't think you can make either payment, your existing car loan could be safer. At least in this case, you're only risking the repossession of the car and not an outright foreclosure on your home.
Talk to a financial advisor for help determining what rates are available to you and what you should know about choosing equity as a way to pay off a car loan faster. One place to start is by considering the benefits that are unique to a home equity loan.
To learn if a home equity loan is right for you, talk to a Discover Personal Banker at 1-855-361-3435, or request a no-obligation quote online and we'll call you back.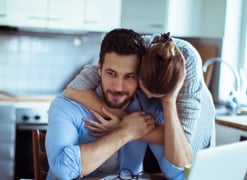 Find your low,
fixed rate

Use our Rate Calculator to find the  rate and monthly payment that  fits your budget.
Main

Start your application online

or give us a call.
Main

Start your application online or give us a call.