Tips for Buying and Selling a Home at the Same Time

Buying and selling a home at the same time can be more complex and challenging than doing just one transaction, but with the proper planning it can be successful. Understanding the steps and being proactive can make the transition much easier.
Step 1: Finding a Good Real Estate Agent
The first step is finding a qualified, experienced real estate agent. This person will represent you as both a seller and buyer, which means that he or she will work with two other agents and negotiate contracts. When dealing with two properties, it's important that everyone stays on top of deadlines and requirements. Your agent's job is to ensure that this happens.
When you find the right house, part of your agent's job is to write up an offer. Talk to your agent ahead of time about how you will handle this process. If you are putting in an offer on a house and your house is not sold, you have two options:
Put in a contingency clause that states that the contract is dependent on your home selling.

Have no restrictions and be prepared to carry two mortgages if your home doesn't sell immediately.
You can also wait to put in an offer until after you sell your home. In this scenario, you would need to find a temporary place to live until you close on a new property.
Step 2: Talking to Your Lender
As you look for a new home, you need to stay in contact with your lender and get prequalified or preapproved for a new loan. You have two options:
You can attempt to qualify for a new loan while carrying your original loan. This requires that you have sufficient income to cover both mortgages and still be within approved limits. If this is the case, it won't matter to the lender if your first home sells before closing on the second one.

The second option is to qualify based on a "pending sale" status. Your current mortgage would not be included; only the new one would be used to determine how much you can borrow. This enables you to be approved for a higher amount, but only if you sell your current home. With this option, your loan will not fund until you close on your current home and the mortgage is paid in full.
Although it may seem like a challenge, simultaneous buying and selling happens frequently. Your agent and lender are both experienced in dealing with the timelines and requirements of this scenario. By selecting the right people to guide you through the process, you will shorten the transition timeline and smooth the move to your new home.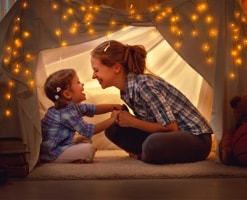 The home equity you've earned
can be used in a multitude of
ways. 
Main

Start your application online

or give us a call.
Main

Start your application online or give us a call.