Finding Your New Home: Researching a Neighborhood Before Buying

Thanks to the wonders of the Internet, you can now know every detail about all the people you've ever met—the breakfast menu of a childhood pal, which bar your ex frequents for happy hour, or even how your co-worker is "feeling" (illustrated with the proper emoticon, of course). But did you know the Web can also help you discover all the important information about a neighborhood? Here's how to harness your Internet stalking skills to find the best places to live.

Housing Prices
The first thing you probably want to know about your new neighborhood is how much you'll have to pay to put a roof over your head. Zillow has a handy interactive chart that shows you how home values and rental prices have changed over the last 10 years.

Taxes
You'll also want to know how much of your salary will be going to income taxes and what the sales and property tax rates are like for your new home. Retirement Living offers a narrative summary on more state taxes than you had ever imagined, including taxes on inheritance, gasoline and cigarettes.

Crime
Many people worry about crime rates when they move into a new place. Some cities, like Miami and Seattle, offer useful crime maps that show the density of different types of crime in different areas.

If a quick Google search doesn't turn one up for your area, browse the FBI's Uniform Crime Reports to see how many crimes and what types have been reported in a neighborhood.
You might have to dig a little, but the comprehensive information is worth it.If you are a parent, living alone or are often out late at night, you might be especially concerned about sex offenders living in your neighborhood. The Department of Justice has consolidated this information at the National Sex Offender Public Website.
Getting Around
Enough about crime and taxes. What most of us really want to know is what kind of quality of life we can expect in a neighborhood. Walk Score provides a quick look at how many restaurants are within walking distance, how extensive the bike paths are, and info on nearby transit routes including how far you can get on a bus or train in 30 minutes.

While the best public transit info is always found on the website for the service itself, Google Maps can be a good resource if you are looking at a lot of areas at once or if you don't know that transit in Cincinnati is provided by the Southwest Ohio Regional Transit Authority. On Google Maps, zoom in until you can see little blue icons that look like the front of a bus. These are clickable links to more information about specific transit options at that location.
Schools
Whether you have kids or not, the quality of schools in a neighborhood is important to note. Areas with better schools often have higher home values. Some sites, like Walk Score and Neighborhood Scout, will give you a decent overview. But if you are a parent, you'll want to dig deeper and find the local school district's website to start getting the information you need to understand whether the local school is a good fit for your child.

Climate and Weather
Weather can be a very personal thing. Some people want 364 days of sunshine a year, and others crave being snowed in for very long winters. Luckily, The Weather Channel can help you find a region with the perfect climate for you. Their easy interface gives you detailed information about local weather including annual rainfall, humidity and pollen count.

Demographics
The best thing about any neighborhood is the neighbors. A tool like HomeFair's City Profiles shows demographic data to help you find a place where you'll feel welcome. Will you be the richest family on the block or struggling to keep up with those Joneses? Does the neighborhood value diversity as much as you do? Will you be surrounded by strollers or singles looking to mingle?

Information on income, racial diversity, age, and relationship status can tell you a lot about where you'll feel at home before you even set foot in a new city.
There's no such thing as TMI when it comes to finding the right place to live. Do you have a favorite corner of the Internet where you go to stalk potential neighborhoods? Please share some of your favorite discoveries in the comments below.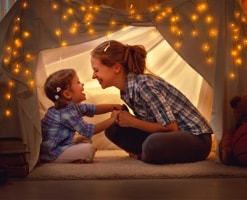 The home equity you've earned
can be used in a multitude of
ways. 
Main

Start your application online

or give us a call.
Main

Start your application online or give us a call.