How to Buy the Perfect Engagement Ring with Your Home Equity

According to Mindy Weiss, author of The Wedding Book (Workman Publishing, 2008), wedding rings make up the second largest wedding expense, after the reception. Unlike the expenses for the venue, the money you pay for an engagement ring yields something that isn't consumed in one evening. The bride or groom has a beautiful piece of jewelry that is a daily reminder of a loved one.
Besides being beautiful, your ring truly is an investment. Like other good jewelry, an engagement ring generally retains its value over time. To ensure that you get a great ring at an affordable price, learn how to talk knowledgeably with a jeweler before you start the selection process.
Consider the "4 Cs"
When purchasing a diamond, size is just one aspect that determines value. To find a beautiful and affordable ring, it's important to understand the 4 Cs standards used by the Gemological Institute of America:
Clarity - Ranging from Inclusions (I) to Flawless (F), these 11 grades in the clarity scale impact price, even though the upper levels show little to no visible differences without a magnifying loupe.

Color - Similarly, color levels have a big range: from colorless (D) to light yellow or brown (Z). Noticeable color starts at about the N level. Even when sparkle remains high, the presence of color causes the price to drop significantly.

Cut - This feature is less standardized. Round cuts, the most common, have brilliant sparkle from their 52 facets. The square princess cut can have even more facets than a round stone, but is often less expensive because it is closer to a diamond's starting crystalline shape.

Carat - The one carat (6 mm diameter) to two carat (8.2 mm diameter) diamond is typical for engagement rings. Stones of three carats and above are less common and increase in price substantially.

Use home equity to finance an engagement ring
For people who already have a home, one way to pay for the perfect engagement ring is to take out a home equity loan. The equity in your home can now be used for a wide variety of purchases, including an engagement ring. With available loan amounts from $35,000 to $200,000 and a fixed interest rate locked in for the desired term, a home equity loan from Discover Home Loans can be an attractive option.
Because the loan is secured by your home, rates are generally more competitive than unsecured methods of financing like credit cards and personal loans. Also, Discover Home Loans has no application, origination, or appraisal fees, and no cash is required at closing.
Research jewelry and financing options to help you buy and pay for the perfect engagement ring, then enjoy it for a lifetime.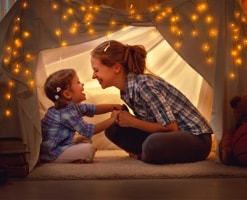 The home equity you've earned
can be used in a multitude of
ways. 
Main

Start your application online

or give us a call.
Main

Start your application online or give us a call.