Refinance Rates in Florida

Whether you're a primary resident of Florida or have rental properties in Florida, you may have considered refinancing your mortgage — especially now that mortgage rates are historically low. 
While it can be tempting to consider refinancing when you see national interest rates fall below the interest rate on your mortgage, it's important to consider the long-term implications of refinancing. While refinancing can be a smart strategy if it fits in with your other financial and home ownership goals, it may not always make sense to refinance only for a lower interest rate. Using a mortgage calculator can help you assess how refinancing will affect your monthly payments, as well as the overall cost of your loan. 
Understanding mortgage rates in Florida
 Your home may be your biggest investment, which is why it's a good idea to think of your "investment" as being active and dynamic — rather than something you set and forget once you've closed on a house and signed onto a fixed-rate mortgage. 
Mortgage rates in Florida currently rang from a low of 3.38% to a high of 4.88%. Someone buying a home with a $200,000 mortgage when mortgage rates were at their peak, could easily pay $20,000 in additional interest than someone who bought when interest rates were at their lowest point. 
But interest rates fluctuate frequently. In addition, interest rates aren't the only factor in a refinance offer: credit scores, the amount of home equity, and other factors play a role in the loans you are offered. That said, while many experts that are familiar with the refinance process may say a 1% interest difference between your existing interest rate and any available refinance mortgage rates may make refinancing appealing, it's important to run your own numbers. 

The best way to prep for a
potential rate decrease —
and a potential to refinance — is to be prepared
Right now, as of 6/14/2020, average mortgage rates in Florida are at 3.37% for a 30-year-fixed mortgage; lower than the national average of 3.45%. 
The best way to prep for a potential rate decrease — and a potential refinance opportunity — is to be prepared. Investing in your home's equity, making a financial plan, and paying attention to interest rate movement can make it easier to decide to act when the time is right, and the numbers add up in your favor. 
Refinance rates in Florida for different types of home loans
Of course, you may not be refinancing simply due to low refinance rates in Florida. You may wish to tap into your home's equity through a cash-out refinance, or switch to a short-term loan to knock out your mortgage payment ahead of schedule. Many people are looking to take advantage of the lower monthly payments that can come with those low interest rates. All these situations can be a great reason to refinance.
It's important to remember that interest rates vary depending on the type of loan you're considering. Understanding the type of refinance you're considering — the loan period, whether your loan is a specific type of government-subsidized loan such as a VA loan, the type of ARM you're considering — will all affect the interest rate of the loan. In addition, it's smart to compare offers and make sure that the factors you can control in the loan process, like your credit score, are in the best shape they can be. 
It's also important to be clear about the type of property you're refinancing. Do you use the home as an occasional rental? Is the home a second home? These situations can affect your refinancing eligibility, as well as your offers, so it's important to be clear on how the home is used. 
If you're refinancing a home in Florida, you may also be thinking of how to refinance in a way that can help maximize your retirement goals. Speaking with a finance pro can help you make a long-term plan of how a refinanced mortgage in Florida can play into larger real estate or personal finance goals, where you can aim to limit your mortgage expenses as you move into retirement. 
Ways to Get the Best Refinance Rates in Florida
If you're considering refinancing in Florida, it can be a good idea to get your home "refinance-ready" before you apply for a loan. Here are some ways to help you get the best refinance rates in Florida.
Invest in Your Home Equity
The more equity you have in your home, the more competitive loan offers that you receive may be. In the months or years leading up to a refinance, it may be helpful to put extra money toward your principal to increase your equity or to make any home improvements that may heighten your home's value. 
Keep on Top of Repairs
Making sure repairs are completed in a timely manner, appliance upgrades are completed when necessary, and curbside appeal is considered are all ways to keep the valuation of your home competitive, which can help you get the most competitive loan possible.
Regularly Check Mortgage Rates
Understanding whether mortgage rates are rising or falling — and seeing how those rates may affect your mortgage — can be a habit that may help you understand how interest affects your monthly payments and can help you predict when the best time to consider refinancing.
Have Your Home Equity Be Part of Your Overall Financial Plan
Refinancing due to necessity — for example, if you need liquidity after a layoff or a family emergency — can be stressful. That's why it's smart to think about how your home equity can be part of your overall financial strategy. For some people, considering a home equity loan can give you access to liquidity without the financial implications of a refi. 
Compare Lenders
Interest rates are just one factor in a mortgage payment. Comparing loans from different lenders can help you find the most competitive mortgage refinancing in Florida for you. 
With many conventional refinance lenders, you may be responsible for thousands of dollars in closing costs. Discover Home Loans offers a mortgage refinance that has zero origination fees, zero application fees, and fixed rates starting at 3.99% APR*.
Understand your refinancing options
For some people, a thirty-year mortgage makes the most sense for their financial goals. But if your financial goals change — say, you want to invest in rental properties or are nearing retirement — it may make sense to consider refinancing as one part of repackaging your entire financial strategy. 
While a mortgage calculator or refinance calculator is an incredibly helpful tool, looking beyond the numbers and considering how a refi will play into your overall financial and home equity goals can be helpful in deciding whether refinancing in Florida makes sense for you.
*Fixed rates starting at 3.99% APRThe lowest APR is available to borrowers requesting at least $80,000 with the best credit and other factors. The APR will be between 3.99% and 7.99% for first liens and 3.99% and 11.99% for second liens based on loan amount and a review of credit-worthiness, including income and property information, at the time of application. Loan amounts available from $35,000 to $200,000.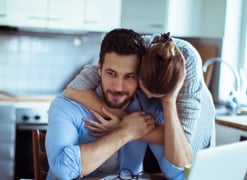 Find your low,
fixed rate

Use our Rate Calculator to find the rate and monthly payment that fits your budget.
Main

Start your application online

or give us a call.
Main

Start your application online or give us a call.