Paying for Major Expenses: The Pros and Cons of Your Options

If you're looking to fund a major expense like a wedding, school, car, medical bill or any other expense, you have options. This guide will give you a brief overview of the pros and cons of using methods like a home equity loan to fund major expenses.
Using a Home Equity Loan for Major Expenses
Home equity loans (HEL) have more manageable risks and rewards compared to the other methods on this list. Tapping into home equity for a loan to pay major expenses is becoming more common. No matter why you choose a home equity loan, there are a variety of benefits.
Pros
Using a home equity loan to pay off debt will typically give you a lower interest rate than most other methods because the loan is secured by your home. While rates vary by lender, A Home Equity Loan from Discover offers fixed rates starting at 3.99%*. You usually cannot get this low of a rate with personal loans or credit cards. There are also fewer restrictions on what you can use the money for.
*Your APR will be between 3.99% and 7.99% for a loan in first lien position and 3.99% and 11.99% for a loan in second lien position. The APR is based on loan amount and a review of creditworthiness, including income and property information, at the time of application. The lowest APR is available to consumers with the best credit and other factors, including the loan term. Loan amounts available from $35,000 to $200,000.
In addition, home equity loans usually offers longer loan terms, so there may be less impact to your finances month to month. A home equity loan from Discover offers repayment terms of 10, 15, 20 and 30 years.
Another advantage of a home equity loan is the fees. While it varies by lender, a home equity loan from Discover charges no application, origination, or appraisal fees, and no cash is required at closing.
Cons
Your home equity is the collateral for your loan, so if you are unable to repay your loan, you may be putting your home at risk.
Another risk is the value of your home. If your home value does decline, you may end up owing more than what the home is worth overall.
Using a Personal Loan for Major Expenses
There are two kinds of personal loans - unsecured and secured. Unsecured loans are common and don't require any collateral. Secured loans require you to provide an asset that the bank will take if you default.
Pros
Personal loans can be used for anything, which includes paying major expenses, no matter how they arise. Secured loans tend to have some of the lowest interest rates available to you. Both secured and unsecured loans will provide you with fixed monthly payments that are easy to understand, and payments are based on your ability to repay.
Another pro is that you aren't putting your home at risk, and you don't have to rely on the value of your home.
Cons
The downside of personal loans includes the fact that secured loans can result in a loss of your securing asset, if you fail to pay. If you use unsecured loans, you're typically facing a higher interest rate and may be subject to a variety of fees for starting the loan, or even repaying it early.
For both loan types, you may end up with higher monthly payments.
Digging into Your 401K or Emergency Savings

A job loss should constitute an emergency, but paying off credit card debt shouldn't.
Taking from your emergency stash or your retirement account may seem strange to consider, and that's because they're typically bad choices, unless you're in an extreme emergency. Consider all of your other options first. The penalties and financial worries that come with using either of these methods makes them less than ideal.
Pros of Using your Emergency Funds
If you're facing an emergency situation like medical bills, job loss or another unexpected problem, that's what emergency funds are useful for. Cashing out savings accounts that aren't just for emergencies can be useful if your debt has a higher interest rate than your savings account does.
Both options can also make sense if your debts won't go away after declaring bankruptcy. The stage at which you consider bankruptcy is the first stage when you should consider tapping into these resources. Some debts, like student debt, aren't discharged. That means you'll still have to pay. Speak to a financial advisor to decide on the best way to proceed in your situation.
Cons of using your 401K
Taking from your retirement account, like a 401K, means you no longer have anything saved up for retirement. You are essentially eliminating your ability to access money during a time when you won't be able to earn it.
You can also face significant penalties if you remove this money before retirement. For some accounts, you'll face penalties up to 25 percent. That means you have less money and you have to work even longer to make it up. In addition, you can face tax penalties for borrowing from your 401k
Cons of using your Emergency Funds
A true emergency involves the potential loss of your home or livelihood. That means a job loss should constitute an emergency, but paying off credit card debt shouldn't. If you empty your savings to pay off credit card debt, you're preventing yourself from being able to make any payments if trouble strikes.
Using Peer-to-Peer Lending
Peer-to-peer (P2P) lending services loaned nearly $5.5 billion in 2014 to more than 500,000 people in the U.S. Peer-to-peer sites make you register and discuss your needs, then the market is able to underwrite your debt and give you a loan in a certain category, which individuals then finance as a group. Typically, people will provide small amounts, say $25, and then a large group of these small contributions are collected to reach your loan amount.
Pros
A P2P service can be nice because it provides you with access to funds for any reason. Some people may choose these over other options, like a second mortgage or a bank loan, because there are fewer restrictions on its use.
You'll also have to fill out less paperwork than a traditional loan, you typically don't face setup or other maintenance fees and interest rates can be low. By cutting out the middleman, many P2P services pass some of that savings on to you.
Cons
Because the risk of default is hard to ascertain, and because the lenders would pay directly for collection services if needed, they often only lend to people with a good track record of paying off debt.
This type of loan can be a tough option if you're getting back on your feet or don't have existing credit. You may still get a loan, but you likely won't get the best rates.
Another problem is that your information will be viewed by many people, potentially thousands. Your needs are broadcast and lenders decide if they want to assist you.
Often, there are different caps on amounts and more restricted repayment terms. This is designed to ensure lenders get their money back.
As always, we suggest you speak to a financial advisor and do your homework before taking on any new debt or using any loan product. To learn how a home equity loan can help you, speak with a Discover Personal Banker today at 1-855-361-3435, or apply online now and see if you qualify in minutes. We'll show you what product options, terms, APRs, and monthly payments are available to you.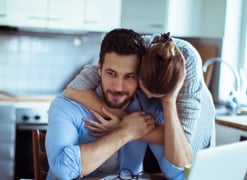 Find your low,
fixed rate

Use our Rate Calculator to find the  rate and monthly payment that  fits your budget.
Main

Start your application online

or give us a call.
Main

Start your application online or give us a call.