Open Houses Present Incredible Opportunities for Buyers

I love open houses. They're a great way to have some fun while doing low-key research in the house-hunting process. It's a bit like visiting a friend's house and seeing how they've renovated and redecorated. You walk away with thoughts and ideas on features you would like for your own house. Then when you're ready to start house-hunting with a real estate agent, you know what to look for.
In today's market, when buyers start looking for homes, their search often begins online. According to a 2013 study from the National Association of Realtors (NAR), 90% of buyers rely on the Internet as one of their primary research sources. However, many buyers also find great value—and enjoyment—in visiting open houses. According to the NAR study, 46% of buyers who use online searches also attend open houses during their home search.
If you're getting ready to buy a house, attending open houses helps you:
Set realistic expectations,
Fine-tune your search criteria,
See real estate agents at work and,
Establish realistic expectations. Open houses can help you understand what features are available at different price ranges. There's no pressure, just a casual walk through the house. You can see a number of homes in neighborhoods that interest you. Compare your initial expectations of what you want in a house with what is available at that price. When touring a home, listen to what other visitors are saying and talk to the agent about the neighborhood. If you like the home you're viewing, take time to walk up and down the street to get a feel for the neighborhood as well as the house itself.
Assess priorities. Buying a home is a major financial decision, probably one of the biggest investments you'll ever make. So it's important to truly understand your tastes and preferences so you'll make the right purchase. You don't want to have buyer's remorse after you move in simply because you didn't look around enough when you were searching for a house. It's easy to pinpoint what you like and dislike about your current home, but there are a lot of options you may not have considered and won't even know about until you see them in a home. Use open houses to refine your expectations and priorities and develop lists of wants and must-haves. Open houses help you gather this information quickly and easily, again with no sales pressure.
See how agents work.  When you tour the home, learn as much as you can about the property and neighborhood. Most likely the homeowners will not be present. As the seller's representative, the listing agent should have access to the information you need and will be happy to explain how to interpret the property information sheets. You're likely to meet representatives from several agencies at different open houses. If you haven't yet selected a buyer's agent to work with, you can get a sense of which agencies you prefer. Then contact the open house listing agent to get a recommendation for colleagues you can reach out to have an exploratory meeting.
Make Market Comparisons. When you're close to making an offer on a house or have narrowed down your search to a specific neighborhood or two, go to some open houses to compare value. Seeing other homes will help you feel comfortable that you're getting a fair price or help you work with your agent to establish a good offer price. Having attended nearby open houses can also help you negotiate a better deal if the comparable homes have similar features that impact the price.
Visiting open houses is a great way to start the process of looking for a home. Sellers generally "put their best food forward" in their homes, so you'll pick up lots of ideas about layout, décor and features. Picture yourself in these homes to explore your likes and dislikes. The no-pressure atmosphere means you can have a lot of fun. At the same time, it's valuable "work." Visiting a few open houses on your own means you'll have a running start with your real estate agent when you're ready to begin your actual house-hunting search with your real estate agent.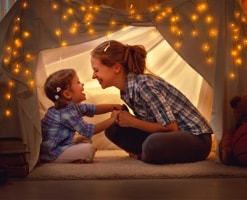 The home equity you've earned
can be used in a multitude of
ways. 
Main

Start your application online

or give us a call.
Main

Start your application online or give us a call.