Kitchen Renovation – Smart Tactics to Boost Your Home Equity

Kitchens are the hottest room in the house! (And not just because of the oven.) A kitchen renovation can often be the key to increasing your home's value. But the costs can add up. The average remodeling project is $65,000 according to the National Association of Realtors (NAR). But it is possible to spend a lot less than that—replacing appliances, cabinet doors and hardware, laminate countertops and flooring—for just over $21,000.
Even a few quick kitchen updates can bring you joy and provide a smart return on your home improvement investment. NAR's research shows a kitchen update will recoup 57 percent of your investment upon resale. Not bad, right? And you can raise that amount with some of these smart, cost-saving remodeling tactics (plus, enjoy the awesome benefits in your own home right now):
1. Keep your existing floor plan and layout.
The national average for removing or relocating a wall is a thousand dollars for a non-load-bearing wall—and up to $10,000 for a load-bearing structure. So unless an open plan is essential for improving traffic flow in your space, consider letting go of the idea, at least for now. You can create a design that allows for an open plan in the future with a minimum of hassle.
For additional savings, leave your plumbing and electrical systems as is, unless of course you need to correct code and/or safety issues. Doing this lets you focus on less expensive updates like cabinets, flooring, and paint.
2. Salvage everything you can for home improvement.
Try to work around existing materials. For example, kitchen floors account for about 5 percent of a kitchen's renovation cost. So consider salvaging your hardwood or tile floor. You can change its look by bringing in complements like a new cabinet finish, wall color, or even a creative lighting treatment.
Keeping your current appliances is also worth considering, since you can spend as much as $8,000 for a new refrigerator, oven, dishwasher, and microwave. If you decide to replace them, consider avoiding expensive stainless steel finishes, unless you're really drawn to them. You can save hundreds or even more— with premium brands like Bosch, SubZero, and Viking—by going with a smooth or textured white or black look.
3. Reface your kitchen cabinets and countertops.
Cabinets take a huge bite out of your kitchen renovation budget—about 30 percent. So to maximize your home improvement dollars, don't replace your cabinets. Reface them instead, because it offers a great return on value. Depending on the size of your kitchen, new cabinets can run $15,000 to $30,000, assembled and installed. In comparison, refacing costs from $4,000 to $9,000.
While you're at it, also look into resurfacing your countertops. Covering your scarred and tired counters with a layer of granite, quartz or even tile takes about two days—and costs much less than entirely new countertops: It'll set you back about $900, versus $3,000 or more for entirely new materials.
Bonus tip: Even if you don't resurface your cabinets, replacing their door handles and pulls (typically $2 to $20 each) adds some serious sparkle to a humdrum kitchen.
4. Update your faucet.
Switch to a highly functional high-arc design with a pull-down sprayer for about $100. Or give your kitchen a retro-rustic look with a bridge faucet (about $250).
Even if a full-on kitchen renovation isn't in your home improvement budget this year, by making a few, smart updates, you can get a great return on your investment—and a better-looking, better-feeling kitchen. Now get cooking.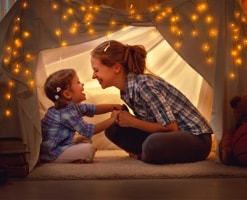 The home equity you've earned
can be used in a multitude of
ways. 
Main

Start your application online

or give us a call.
Main

Start your application online or give us a call.