How Millennials Are Revolutionizing Home Buying

For the first time, the majority of today's homebuyers are millennials, born in the early 1980s and 1990s. From 2016 to 2017, first-time home buyers were expected to jump from 33% to 52% of the total population seeking homes. About 60% of those first-time home buyers are millennials.
Millennials are having impacts on the home-buying process. To start, those buying projections mean significantly higher competition for 'starter homes.' This supply and demand situation has an impact on pricing. In addition, some of the personal characteristics of millennials are changing the buying process.
Characteristics of Millennials
Unlike earlier generations, millennials grew up in a digital world, starting with cell phones and computers and progressing to social media and transaction-enhancing apps. Millennials often demonstrate different traits and behaviors from their parents. Some of these characteristics impact home buying. Millennials are:
More educated – Millennials are more likely than ever to have a bachelor's degree. Both men and women are now more likely to hold bachelor degrees compared to their Gen X counterparts.
Tech savvy – Growing up in a tech evolving means having information instantly available. This extends to home buying, and more than any other generation, millennials use technology to help them buy a home. They educate themselves online and use more resources to research agents and lenders.
Frugal – They want to live within their means. They won't buy until they've saved enough for a down payment, and often can't yet due to student debt.
In addition to using agents and researching homes online, millennials seek out advice from friends and ask for opinions more often. Millennials are 58% likely to turn to a friend, neighbor or relative to inform their home search, the highest of any generation.
Millennial Home Buying Trends

Many millennials also plan to stay in their first homes much longer than baby boomers stayed in starter homes.
Two of the most visible trends in millennial home buying involve timing and size. Millennials are waiting longer to make their first-time home purchases and buying smaller homes.
Millennials want to be confident that they are making a secure investment in their homes to avoid the problems of the housing collapse of 2008. Frustration lies in the competition for homes in their target price range, as a limited supply makes it a seller's market, and bidding wars often end after sales above asking price.
Some millennials are buying fixer-uppers, wanting to put their own touch or personal taste into creating the perfect home to meet their needs in an economic fashion. With their homes the center of family life, millennials may invest in renovations to improve kitchen facilities and add outdoor entertainment soon after home purchase.
Many millennials also plan to stay in their first homes much longer than baby boomers stayed in starter homes. The time and money most spend searching for the ideal neighborhood and making their home perfect for their growing family needs means they're quite comfortable staying where they are long term.
Today's homebuyers are starting to look a little different. This is no surprise with the recent wave of technology and the changing landscape should be expected to change for years to come. See Zillow's full report on consumer buying trends for more information.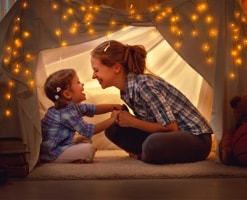 The home equity you've earned
can be used in a multitude of
ways. 
Main

Start your application online

or give us a call.
Main

Start your application online or give us a call.