Home Remodeling the Smart Way: Save Money and Stay on Budget with These Tips

Small changes often come with big price tags. Avoid overspending with these tips for renovating on a budget.
Follow These Tips for an Efficient Renovation
Create a strict budget before you begin.

Factor in unexpected expenses at 20%.

Ensure your project will increase the value of your home.

Get several contractor estimates.

Maintain a consistent vision based on your budget.
Create a Budget Before Getting Estimates
It's easy to get swept up in the excitement of a renovation, but little extras can sink an otherwise sound budget. To avoid overspending, create a strict set of figures before you arrange to meet with a contractor for project estimates.
If you are doing the project yourself and need to determine how much you can afford to spend, remember to factor in a percentage to cover unexpected costs, like removing dry rot and patching holes, rewiring an old electrical system or tearing down a wall. It's a safe bet to estimate an additional 20% for unforeseen costs.
Tackle One Project at a Time
It's best to avoid renovating several rooms at once. That's because unexpected expenses and design choices are easier to navigate when you're only dealing with one major renovation at a time. Splitting your focus often translates into split decisions. Taking your time and working on just one project will allow you to weigh each option and think outside the box.

Prioritize the area that will give you the greatest return on your investment.
Start with the Renovation That Adds the Most Value
When deciding where to begin, prioritize the area that will give you the greatest return on your investment. Here are examples of projects that add the most value based on their average ROI, according to remodeling.net:
Wood deck addition - 75%

Master suite addition - 64.1%

Major kitchen remodel - 64.9%

Basement remodel - 70.4%

Bathroom remodel - 65.7%
Commit to a Consistent Vision
The more solid your design plan, the more you will save. Last minute changes can equate to money wasted on labor, materials and other fees. So, spend time upfront crafting a solid blueprint. Schedule a consultation with a designer to go over fabric, flooring, tile and appliance selections. Also, check out alternative sources of materials. Places like Habitat for Humanity's ReStore sell new and gently used building materials and furniture for a fraction of the price.
If You're Hiring a Contractor, Go over the Figures Together
Sometimes, wrong assumptions and omissions can translate into a wrecked budget. Go through each expense with your contractor to ensure that you are getting a fair price. Don't forget to add sales tax to materials. Also, beware of hidden subcontractor's fees and be sure your contractor has adequate insurance.
Get a Second Opinion
Finally, shop around and get a second opinion. Contractors have various specialties and what might take one a long time to complete, might be something that another contractor has mastered in a way that can save you money. You may also save a great deal of money by shopping around for your materials and considering your options. Your home is one of your biggest investment. With proper planning and communication, your dream home is possible.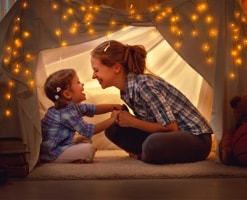 The home equity you've earned
can be used in a multitude of
ways. 
Main

Start your application online

or give us a call.
Main

Start your application online or give us a call.