Using a Home Improvement Loan to Install a Swimming Pool

Installing a swimming pool can be a wonderful addition to your home and lifestyle. While a pool will give your family hours of entertainment and leisure, it is not typically an excellent resale investment. But if having a pool suits your lifestyle, you may want to use a loan to cover the costs of the project. Home improvement loans may be a great way to finance the cost of a swimming pool.
Assess the Project
Before you price out the cost for a swimming pool, it's best to assess your reasoning for the addition. If you aren't planning to stay in your current home for many years, a swimming pool may not be the best choice for return on investment. Swimming pools offer little increase in resale value, depending on where you live, so if you're counting on the next owner to appreciate your pool, you may want to reconsider. The National Association of Realtors' Center for Real Estate Research says an in-ground pool can add about 8 percent to a home's resale price1. But that value ranges from 6 percent in the Midwest to 11 percent in the South2. So evaluate your project according to your location. If you determine that a pool is the right choice for you, determine the depth, size, shape and extras you desire, and then begin researching contractors.
Choosing a Contractor
Before deciding how much to borrow, it's best to consult with a contractor to price out the project. When choosing a contractor, first turn to trusted friends who may have done home improvement projects in the past year. Referrals are hands-down the best method for finding a contractor you trust. If that doesn't turn up any results, look online and read reviews for contractors in your area. Always look for credentials or memberships from associations like the National Association of Homebuilders3 and follow up with reference lists. For additional important information read The Five "Be's" of Home Improvement.
Regulations
Each state has different regulations for the installation of in-ground swimming pools. However, the U.S. Consumer Product Safety Commission has specific guidelines they hope will be followed when it comes to swimming pool installation and safety. Although these are not mandatory requirements, state and local governments have incorporated many of these guidelines into their building codes.
Pricing
In-ground pools are a major investment and can be costly. With minimal patio surrounding, basic features and fencing, in-ground pools start at about $25,0004. Of course more elaborate designs and added features such as spas, slides, and landscaping will run closer to $50,000-$100,000. Not to mention pool maintenance after the completion, which can cost more than $500 annually4.
Lot Usage
Other than determining the best fit for your yard, you must also consider the accessibility of your lot for construction equipment as well as slope and soil type. If you enjoy the use of your lawn (especially for children and pets) consider leaving more room by settling on a smaller pool and keeping more of your lot open. Make sure your contractor has the most updated zoning laws for swimming pools in your area and confirm that your contractor has obtained the proper permits for this type of construction.
Timing and Safety
An in-ground pool takes anywhere from two to 12 weeks to complete, depending on the extensiveness of the project and the type of pool you choose. During the construction time, it is important to keep your family and neighbors safe from potential dangers found at the site. Make sure your contractor is cleaning up and removing dangerous tools from the site at night. Instruct your children to stay away from the construction and even consider erecting a temporary fence if your yard doesn't have one already.
After the construction is finished, consider the safety of your children and neighbors with regard to your swimming pool. A study by the Consumer Product Safety Commission states that the majority of deaths and injuries in pools and spas involve children ages 1 to 3 and occur in residential settings5. While your state may not require a fence or barrier around the pool, it is best to add an extra layer of protection against a lapse in adult supervision in order to keep children safe. A fence also protects you from liability issues if an incident occurs when you aren't in the home.
Bottom Line
Installing a pool is a major undertaking, more for the enjoyment of your family and friends than a major increase in resale value. But if you decide to go ahead with this addition, finding a reliable contractor, pricing out the project and securing a home improvement loan can help you break ground on your ideal place for fun in the sun.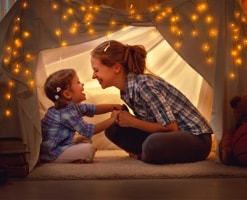 The home equity you've earned
can be used in a multitude of
ways. 
Main

Start your application online

or give us a call.
Main

Start your application online or give us a call.