Using Home Equity Loans to Increase Square Footage

Today more and more people are using home equity loans to finance their home improvement projects. Adding square footage to an existing home is an increasingly popular way to mold a house into your dream home. If you are thinking about adding square footage, we've outlined how to best utilize your home equity loan for renovation projects as well as some popular addition projects. The Discover Home Loans team wants to arm those interested in home equity lending with realistic information to make educated decisions about their home renovation.
Do Your Research
Before undertaking a large home improvement project, discuss potential renovation ideas with a real estate agent. A real estate professional will be able to give you an informed opinion on which additions will provide the best resale value based on your local market. Next, work with contractors to gather bids on the project. The best way to find a trusted contractor is to speak with friends or neighbors who may have also done renovations in the past. A reliable contractor will be able to price out potential renovations and discuss how they can upgrade your current home. Request an itemized bid with materials and labor listed separately to accurately compare contractors.

Adding Square Footage
Additional square footage must meet certain criteria to be counted towards the actual square footage of your home. The area must meet all local building code requirements. According to Home Advisor the space must have finished walls, ceilings and floors to be considered habitable. Legitimate square footage also should be heated or air conditioned in the same manner as the rest of the home, depending on where you live.

Finishing a Basement
Finishing a basement is one of the best ways to increase the square footage on your home. A finished basement can become a TV room, another bedroom or two, a children's playroom, an office and more. Depending on the prep work, the size of your space and your decor preferences, a finished basement could cost upwards of $70,000 for a midrange project, according to Remodeling Magazine's 2017 Cost vs Value Report. Converting an attic is similar in price to converting a basement and sometimes recoups more costs during resale.

Popping the Top
Sometimes if your lot doesn't allow for additional square footage to be built out, you'll have to build up. If you want to add a sizable amount of square feet, adding a second story (or "popping the top") may be the best option. You may even save on roof construction by removing the existing roof and then re-installing it onto the new addition. The first step to any vertical build is checking with your local zoning office to make sure a second story is permitted in your area.

Converting Garages or Carriage Houses
If you're looking to add square footage to your house without a full-scale addition, look into converting your garage or carriage house into a living space. Garages often already have a foundation, walls and a roof, so using this existing structure can be one of the most low-impact renovations. Another upside of this renovation is that your living space won't be as disrupted by construction (especially if your garage is detached from the home). But remember that if you're in an urban area with crowded street parking losing a guaranteed, covered parking space can sometimes hurt resale value.
Plumbing Additions
Adding a bathroom to any of these renovations may increase the costs and the invasiveness of the project. However, adding a bathroom to a second story addition or basement remodel may increase the attractiveness of the addition during resale. According to Remodeling Magazine's 2017 Cost vs Value Report, the average cost of a bathroom addition is around $43,000 for a midrange project and up to $82,000 for an upscale project.

Bottom Line
Whether you choose to finish a basement, convert a garage or renovate your attic, you should prepare yourself for these types of overhauls both conceptually and financially. Discover can help to manage some of the financial commitment with a home equity loan. Get started on your dream house today with the above suggestions and a little help from Discover home loans.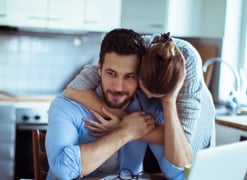 Find your low,
fixed rate

Use our Rate Calculator to find the rate and monthly payment that fits your budget.
Main

Start your application online

or give us a call.
Main

Start your application online or give us a call.