Average Debt Consolidation Loan Rates

When thinking about debt consolidation, finding a good interest rate requires some investigation on your part. There are certainly a lot of offers out there. However, there are two basic elements to a good debt consolidation strategy: 1) The loan you receive should have a lower interest rate than what you are already paying on your debt; 2) You are committed to changing your spending habits to avoid creating more debt.
First off, what is a debt consolidation loan? It's a type of loan that lets you merge various debts into a new, single loan, which could simplify and preferably lower your monthly bill. Some debt consolidation loans may be secured, like a home equity loan, or unsecured, like a personal loan. But one thing to consider: Although your monthly payments may be lower, you may end up paying more in interest over the life of the loan if the term is longer. With a secured loan, you are required to provide collateral, like a home or savings account, to secure the debt. This could be a risk because the lender could take that asset to satisfy the debt if you stop making your payments. Unsecured loans, however, don't require collateral. So, the next question: How do you determine what option could be right for you?
A strategic approach to financial freedom
The first thing you need to do is determine the interest rates on your current debt. Once that's done, you can begin to look at your loan options. Before your new interest rate is determined, it will be impacted by a few factors, including your credit score and credit history. So be strategic about when you seek a loan. You may want to wait to improve your score beforehand. There could also be errors in your credit report that should be corrected.
Discover® allows you to check your credit score for free and checking will never impact your credit.
As for the second element, curbing your spending, "Wake up and be true to yourself," says Lou Cannataro, founder of Cannataro Park Avenue Financial. "Map out what you want the future to look like. Once you can see your plan in writing and how it can be accomplished, then—and only then—go after it!"
Here's an overview of lending options, including home equity loans (HELs), which are becoming an increasingly popular way to consolidate debt because they often carry lower interest rates than other types of loans, plus some rough rate comparisons:

Some of the value you have in your home can be used to pay off debt through a home equity loan (HEL)
Lowest average interest rates: home equity loans
Owning a home is an incredible asset. Some of the value you have in your home can be used to pay off debt through a home equity loan (HEL). This is a secured loan, meaning your home is collateral, and you can generally get a lower fixed rate than other unsecured loans with variable interest rates. The average HEL rates for a 15-year, fixed-rate term is 5.82% with a range of 2.99% to 9.03%. The risk with a HEL is that you could lose your home if you fail to repay your loan. Learn about the home equity loans with Discover Home Loans®, which have zero fees, flexible loan terms and low fixed rates, starting at 3.99% APR*.
Higher average rates: Unsecured personal debt consolidation loans
Some debt consolidation loans are unsecured, meaning you do not have to put up any collateral to receive the funds. These are often called personal loans. Their interest rates tend to be higher than a HEL. You can determine the term of your loan, so be sure to do the math to make sure you are aware of the interest you will pay during the life of your loan. Some lenders will pay your debts directly, so you do not accumulate new debt with the loan. As of June 24, 2020, the national average personal debt consolidation loan rate is 11.91%. Be sure to seek an interest rate that is lower than what you are currently paying on your debts.
Low and high average rates: balance transfer credit cards
Some credit cards offer incentives to get you to roll over your debt to their card. Sometimes they offer 0% APR for a period of time. There can be other bonuses, like miles or points. However, once the introductory period is over, the APR usually moves to a higher rate, so be sure to know what you are getting into before signing up. As of June 24, 2020 the national average credit card APR is currently 16.01%. If you can't pay off your debt during the introductory window, make sure the new APR is lower than your current debt APR(s).
How to find the best debt consolidation rate for you 
Now that you have a sense of the overall picture for debt-consolidation loans, you can start figuring out what makes sense for you. A great way to do some research is to play with Discover's Debt Consolidation Calculator to determine how much you might be able to save by combining debts into one low-interest monthly payment. As always, read the fine print and ask questions. The sooner you are on your way to freedom from debt, the better.

*Fixed rates starting at 3.99% APRThe lowest APR is available to borrowers requesting at least $80,000 with the best credit and other factors. The APR will be between 3.99% and 7.99% for first liens and 3.99% and 11.99% for second liens based on loan amount and a review of credit-worthiness, including income and property information, at the time of application. Loan amounts available from $35,000 to $200,000.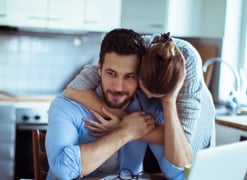 Find your low,
fixed rate

Use our Rate Calculator to find the rate and monthly payment that fits your budget.
Main

Start your application online

or give us a call.
Main

Start your application online or give us a call.