Using Home Equity Loans to Rebuild After a Natural Disaster

The United States experienced 28 separate billion-dollar weather and climate events in 2018 and 2019—with net losses exceeding $1.75 trillion. For many homeowners, the financial impact of extreme weather events can be disastrous. While a good portion of the required repairs are often covered by a standard homeowner's insurance policy, some damage is not. For instance, damage by flood, earthquake or other so-called "acts of god" may not be included in the coverage, unless a homeowner purchased a separate policy or rider.
So what can you do if your home suffers damage from a natural disaster and repairs are not included—either partially or in full—in your homeowner's insurance policy? One option is to turn to home equity loans. But first, find out exactly what needs to be covered if you do turn to tapping money from your home to recoup costs.
To prepare yourself best for this task, develop a well-thought-out disaster-readiness plan that includes provisions for covered—and uncovered costs—as well as a strategy for how to weather the weeks between when disaster strikes and its recovery.
Here are tips on how to make you and your home disaster-ready:
Get the right insurance coverage for your geographical area
Do you live in an area prone to tornadoes, earthquakes, lightning or severe winter storms but are not sure if your standard homeowner's policy covers associated damage? For the most part, natural disasters aren't covered by a basic home insurance policy if you live in a high risk zone, like low-lying flood plains, the heartlands' "Tornado Alley" or on an active fault line. You most likely would have to pay more for your policy to cover the increased risks.
In other instances, repairs caused by events like hurricane winds may be covered, but water damage from the same storm may not—unless you purchase an additional flood insurance policy. Be sure to contact your policy issuer and check for any coverage gaps that can be filled with a rider or separate policy, and keep track of those potential costs.
Make sure you always have access to some cash
An emergency stash of cash can come in handy when faced with an unexpected disaster repair bill. The amount you set aside can depend on certain specific needs. You should have enough cash to cover you if the ATMs are out in your area or banks are closed. If your family and friends aren't close by, you may need money for hotel expenses and eating out as well.
To be safe, while most financial planners suggest an emergency fund of between 3 to 12 months worth of expenses, it may pay to lean toward the latter if you live in a disaster-prone area.

A home equity loan could offer access to cash that can be used to fund the cost of temporary housing
Have a financial plan to rebuild
What should you do if the cost of your uncovered home repairs exceed your emergency savings account, or if disaster strikes while you're short on funds? First, take comfort in the fact that you're far from alone. The majority of Americans have less than $1,000 stashed in their savings accounts and almost 45% of Americans don't have any money set aside for an emergency home repair.
A home equity loan could offer access to cash that can be used to fund the cost of temporary housing while structural repairs are made or to bridge the gap between available cash-on-hand and out-of-pocket disaster expenses. (Just be sure to confirm with your insurance adjuster that your repairs won't affect any anticipated insurance payout.)
When searching for home equity loans, consider one that will reduce your stress level—not add to it. In short, you'll want to find a provider that makes the process as quick and easy as possible, so you can move on to getting your home—and your life—back in order. 
Side Tip:  Be sure to be upfront about the severity of the damage. Discuss with your lender to ensure that it is possible to receive home equity loan funds based on the home's current condition.
Manage all the financial challenges of an unexpected event
If you're struck by a natural disaster and can't pay your bills, reach out to your mortgage lender immediately to see if they can help. In certain situations, your lender may be able to set up a payment plan or share special disaster relief policies. The next calls to make include your credit card, auto and any other lenders you work with. They may be able to extend terms of payment during extenuating circumstances.
Leave a forwarding address
This is a short item, but a very important one. If you have to leave your home after a natural disaster, let your creditors know how to reach you, so you don't unintentionally miss any payments that could affect your credit rating or your ability to apply for credit in the future during a setback.
Make "preparedness pays off" your mantra
Making some of the simplest moves to be ready for a natural disaster could make a huge difference when it comes to getting your house in order and your life back on track. Thinking about your geography, having quick access to cash after disaster strikes and looking at home equity as part of a plan to recoup costs are all ways to survive financial pressures and relieve stress in the event Mother Nature puts your home to the ultimate test.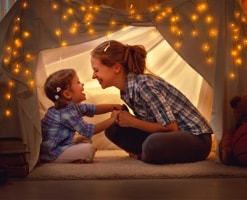 The home equity you've earned
can be used in a multitude of
ways. 
Main

Start your application online

or give us a call.
Main

Start your application online or give us a call.