How to Choose the Right Home Equity Loan and Lender for You

Home equity loans are a popular way to pay for improvements to your home, consolidate your debt or even pay for big expenses like weddings and vacations.
If you have or had a mortgage and have been making your payments, you'll most likely have some home equity you can use to borrow against.  Because a home equity loan delivers your money in one lump sum, you'll know the exact amount you're borrowing, and you'll have consistent monthly payments and a fixed rate.  Your interest rates and fees you pay depend on the lender you work with.
In this article, we'll look at some of the major differences in home equity loan (also known as HEL) offerings and point to the competitive aspects of your loan. Reading this article will help you learn more about what to look for in a loan, what to ask your lender and how to compare one HEL offer to another.
3 Major Home Equity Loan Comparisons
While you should carefully review any loan you're considering, there are some quick things you can use to narrow down a list of potential lenders.
We've put together information on the three main areas where you can start comparing lenders: loan rates, fees and your eligibility. At the very least, you should be comfortable with these three areas before deciding on a loan.
Rates
First, compare the rates of potential home equity loan options.  You can get a home equity loan with either a fixed interest rate or a variable cap interest rate. Discover Home Loans has rates starting at 3.99%*.
*Your APR will be between 3.99% and 7.99% for a loan in first lien position and 3.99% and 11.99% for a loan in second lien position. The APR is based on loan amount and a review of creditworthiness, including income and property information, at the time of application. The lowest APR is available to consumers with the best credit and other factors, including the loan term. Loan amounts available from $35,000 to $200,000.
Rates will depend on the loan amount, your credit, the value of your home, your equity, work history / income and other elements. Fixed rates will stay at a set APR, and you'll typically pay the same amount each month over the entire course of your loan.
Variable rate loans can change your interest rate over the life of the loan. Your variable rate depends on the Federal Reserve and will move over time.
Fees
Lenders make money in a few different ways when it comes to a home equity loan. Every lender is trading money today for a larger payoff over time, but you may also face some immediate costs. Review your potential lenders for fees, including:
Origination fees
Escrow services
Property appraisal fees
Title insurance requirements
Application fee
Closing costs
Prepayment penalties
The specific fees depend on your lender. With Discover Home Loans, there are no application, origination, or appraisal fees, and no cash is required at closing.
Your Eligibility
A good lender is one who offers you a deal that you can reasonably afford. Lenders will look at a variety of statistics about you and your household to see if you're eligible for their HEL. Make sure that you can meet all of the minimum requirements for each lender you're considering. It's even better if you can exceed those minimum requirements.
Eligibility requirements you'll want to consider include:
Your credit score.

 The minimum credit score varies by lender, but Discover Home Loans requires a score of at least 620.

Your debt-to-income (DTI) ratio.

 The DTI ratio requirement varies by lender, but Discover Home Loans requires DTI below 43%.

Your combined loan-to-value ratio (CLTV).

This is calculated by adding your mortgage balance to your desired loan amount, and dividing that number by your home value. Discover Home Loans offers loans from $35,000-$200,000 with less than 90% CLTV,  depending on your credit score.
Are There Prepayment Penalties?
A prepayment penalty is a fee assessed to a borrower when they pay the balance of the loan within a certain time period. Check for prepayment penalties on your loan when reviewing your loan documents and speaking with your potential lending partner. Be sure to talk with your lender and read through the agreement to be aware of any prepayment penalties.
Some lenders will include these penalties because they're looking to protect the revenue they get from you—the sooner you pay off your loan, the less interest you'll pay to your lender.
As with other elements of an HEL, you should always feel comfortable with the penalties your lender uses and the explanation they provide regarding those penalties. Discover Home Loans does not have a prepayment penalty but does require expense reimbursement if the loan is paid off within the first 36 months.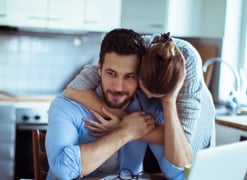 Find your low,
fixed rate

Use our Rate Calculator to find the  rate and monthly payment that  fits your budget.
Main

Start your application online

or give us a call.
Main

Start your application online or give us a call.