Discover Card Help Center
Change Rewards Program
Learn how to change your rewards program to one that better suits your spending habits.
Call 1-800-DISCOVER (1-800-347-2683)
or
Take me to Online Conversion
If I choose to convert my account, what will happen to the rewards I have already earned?
Great News! Your current reward balance will automatically be transferred to your new Discover card.
What will happen to my Cashback Bonus if I choose to convert to Discover IT Miles?
You will not lose any of your rewards. Your existing Cashback Bonus balance will be transferred to your new Discover IT Miles account. You will receive 1 mile for every 1 cent of Cashback Bonus you have already earned. For example $30.00 Cashback Bonus = 3,000 Miles; $100.00 Cashback Bonus = 10,000 Miles.
How will I earn Miles?
You will earn 1.5 miles for every $1 spent on new purchases – no cap, no signup.
When will my card be converted to the new reward structure?
Will I continue earning Cashback Bonus or Miles until my account converts?
You will continue earning the same type of rewards until your account is converted.
How do I earn Cashback Bonus with the Discover IT Card?
You can earn 5% Cashback Bonus® at different places each quarter like gas stations, grocery stores, restaurants, Amazon.com, or wholesale clubs up to the quarterly maximum each time you activate. You will earn 1% Cashback Bonus on all other purchases.
If I convert, do I receive a new card?
Yes, you will receive the default plastic of your new reward structure.
If I am going to receive a new card, can I use my current card?
Yes you can use your current card, the conversion will not disrupt your usage. Once you receive your new card, activate online.
Can I keep my current card or do I have to use the new card that will be mailed?
Once the new card(s) are activated, you should destroy your old card.
Will I get a new account number?
No. Your account number will not change with the conversion.
In fact, the following DO NOT change and need no action from you
Automatic bill payment
e-wallets(e.g. Apple Pay) where your Discover card is provisioned
Direct deposit
Payment due date
What happens to my APR?
Conversion doesn't affect APR, but if you're pending a rate change then your new card will reflect the new rate.
Do all benefits of the card stay the same?
Payments submitted before midnight Eastern Time (ET) will be credited to your account that day, except for payments made on the cycle date. Payments made on your cycle date submitted before 5:00 p.m. ET will be credited as of that same day
Under your new terms, we will not charge you a late fee the first time you miss a payment.
No penalty APR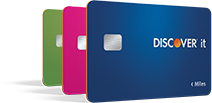 Get away faster when we match all the Miles you earn your first year.*

footnote
*See Terms. Only for new cardmembers